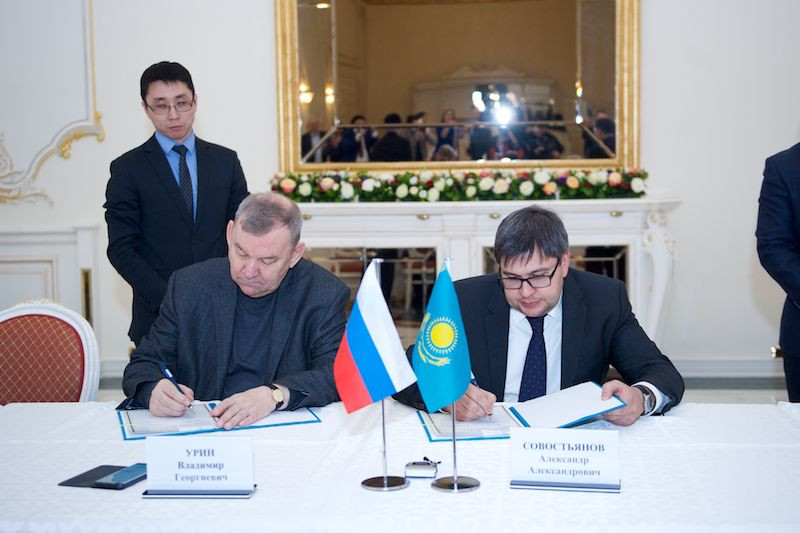 On February 9, a meeting of the directors of the theaters «Astana Opera» Galym Akhmedyarov, «Astana Ballet» Alexandr Sovostyanov, and the General Director of the Bolshoi Theater of Russia, Vladimir Urin, was held at the «Astana Opera» Theater. The first theater leaders signed a Cooperation Agreement, which is part of the implementation of the plans of the Ministry of Culture and Sports of Kazakhstan to implement the cultural strategy of the President of Kazakhstan, Nursultan Nazarbayev.
The cooperation agreement was the result of negotiations, according to which the parties will develop partnership in several areas. During the discussion, the direction of theaters outlined a number of projects. Including, performance and internship of soloists of «Astana Opera» and «Astana Ballet» in the Bolshoi Theater. The long-term cooperation plans also included exchange tours between theaters.
Before the official signing of cooperation agreement, the Minister of Culture and Sports Arystanbek Muhamediuly and Vladimir Urin visited the «Astana Ballet» Theater to assess the creative potential of the team. In a private conversation with the direction and the team, he noted that having an architectural structure in the country's cultural arsenal is a great happiness. He highly appreciated the technical training of Kazakhstan artists and the enormous possibilities of the theater.
Especially for the guests, a twenty-minute program was shown, which included fragments from the most interesting productions, such as the «Salome» choreographer and stage director - Mukaram Avaкhri, «In The Middle, Somewhat Elevated» by William Forsythe, «A Fuego Lento» by invited choreographer Ricardo Amarante, and also the miniature «Asem Konyr» by choreographer Aigul Tati.
«Kazakhstan ballet has its own individuality. Everything I saw here, except Forsythe, is done on your stage. You do not repeat what many ballet theaters are doing today, you make your own product, you have your own creative individuality. This makes you very different from the others», - Vladimir Urin shared his opinion after watching the program.
According to him, the «Astana Ballet» Theater, despite its youth, has «great perspectives» ahead. The director of the Russian theater promised: when the great ballet «The Legend of Love» will appear in the repertoire of the Theater, Kazakhstan artists will be invited to dance on the stage of the Bolshoi Theater. By the way, the premiere of the well-known creation of the no less famous Russian choreographer Yury Grigorovich in Astana Ballet is scheduled for this summer. And the exchange of soloists will be possible from February 2019, thanks to the signing of memorandums of cooperation.
In the vision of Vladimir Urin, this should not be the partnership of «Elder and younger brother», but equal cooperation, taking into account the considerable experience and value of two capital companies, like «Astana Ballet» and «Astana Opera». The director of the Bolshoi Theater expressed confidence that the points of contact between the theaters would be found, and the promising cooperation would not be a formal, but a friendly and equal partnership in the creative field.